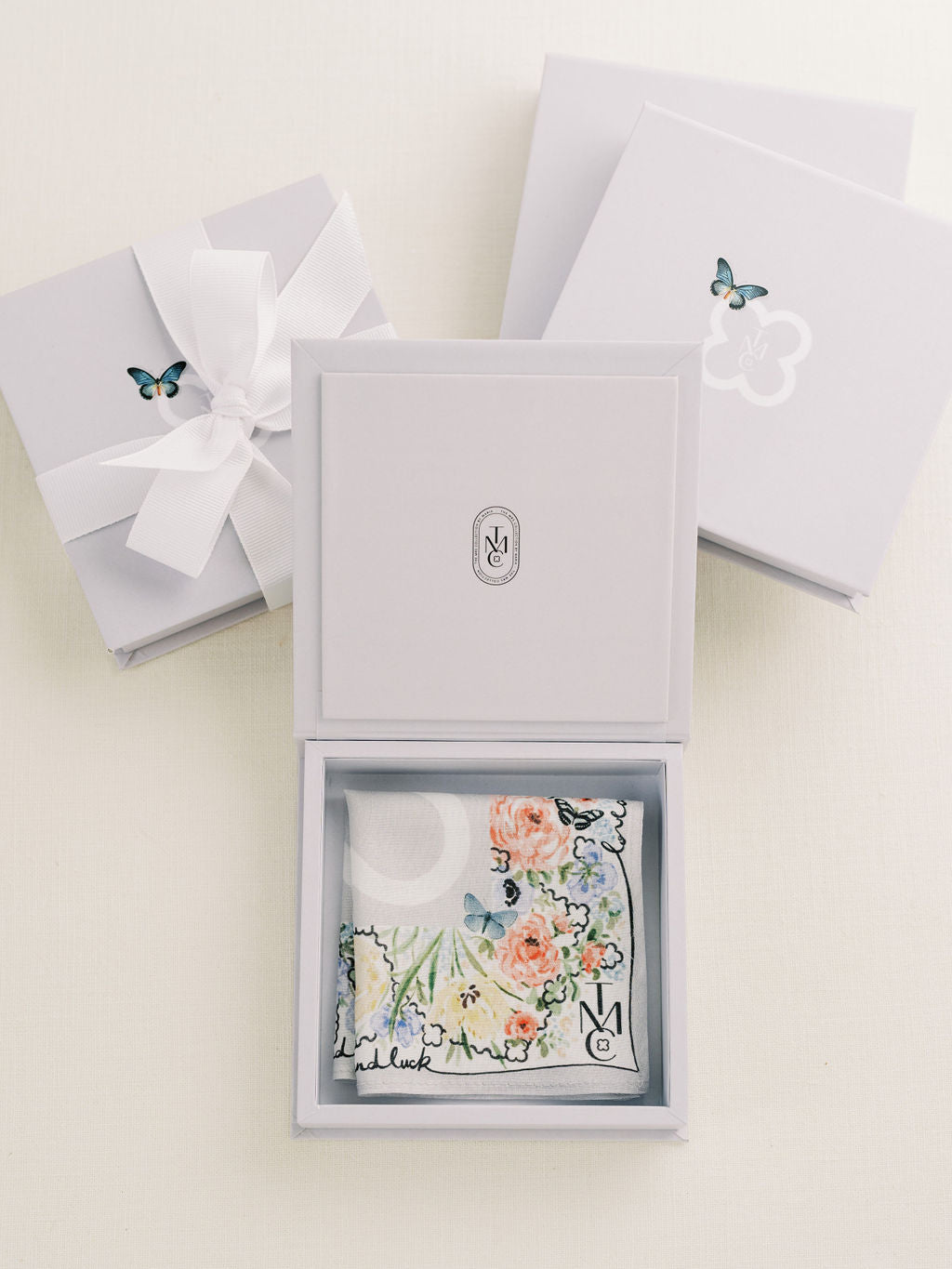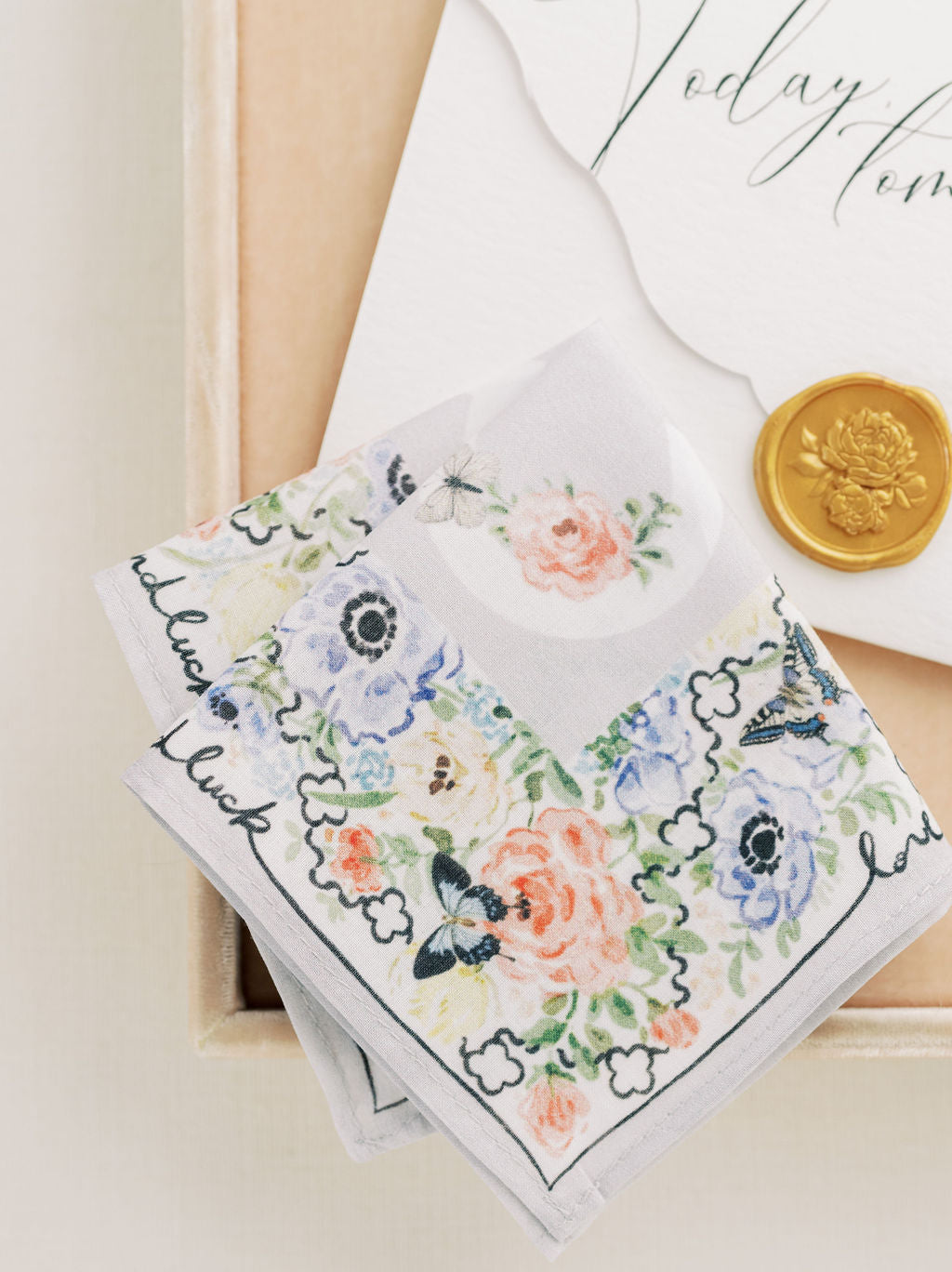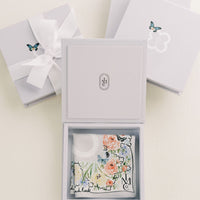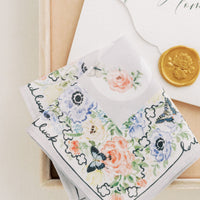 Wedding Floral Handkerchief
Wedding Day Handkerchief | Luxury Bridal Gift for Bride & Mother of the Bride
Congratulations on your upcoming wedding! Make your special day even more memorable with The Bella Rosa Collection's Wedding Day Handkerchief. Handmade in Italy using the finest Italian cotton, this luxury bridal gift is designed to add a touch of elegance and sentiment to your wedding ensemble.
Wedding Handkerchief Features
Material: We believe in using only the finest materials for our handkerchiefs. This exquisite wedding handkerchief is handmade in Italy using the softest, highest quality Italian cotton. You'll experience unparalleled comfort and luxury as you hold this delicate fabric against your skin.

Design: Our handkerchief features an elegant and intricate design created by the renowned Italian design team, Shhh My Darling Designs. Using a commissioned watercolor design, they have beautifully captured delicate pastel florals, fluttering butterflies, and our signature love and luck sentiment. Every detail is hand-painted, making each handkerchief a true work of art.

Size: Our handkerchief measures 8 inches by 8 inches. It is the perfect size to fold and tuck into a bridal clutch or to carry in your hand throughout the wedding ceremony, allowing you to use it effortlessly whenever needed on your special day.
Functionality and Versatility of a Wedding Hanky
Wedding Accessory: The Wedding Day Handkerchief is an essential bridal accessory that adds a touch of grace and tradition to your wedding ensemble. It symbolizes purity and happiness, making it the perfect accompaniment to your wedding ceremony.

Tear Catcher: Weddings are emotional occasions filled with tears of joy. Our handkerchief is designed to gently dry those happy tears, ensuring you look radiant throughout the day.

Keepsake: Beyond its functional use, this handkerchief holds great sentimental value. It can be passed down through generations as a treasured family heirloom. Capture the memories and emotions of your wedding day by preserving this delicate piece as a cherished keepsake.
A Touch of Elegance for Your Special Day: Embrace Timeless Luxury with Our Exquisite Wedding Handkerchief
In Stock & Ready to Ship in 2 Dats

Made in Italy

Italian Cotton

Watercolor Florals 

Blue Butterflies 

Love and Luck

8"x 8"
All items are Italian handmade-to-order, available in limited quantities to slow the fashion cycle, minimize waste, and reduce overproduction.
As such, after purchase, your item will be handcrafted by the finest Italian artisans.
In most cases, handmade processing takes 3 weeks.
Most bridal accessories including ring dishes, keepsake boxes, and hankies are in stock and ready to ship.
Complimentary expedited, 2-day shipping is included on all orders. Please note, signature is required upon delivery.
Domestic orders will be shipped with tracking numbers and delivery confirmation.
International shipments, including shipments to Canada, may be subject to local government taxes and fees such as duties and import. Any duty and import fees are the responsibility of the purchaser and will be paid upon pickup from your local postal office.
14-DAY RETURN POLICY ON NON-PERSONALIZED ITEMS
If you're not completely satisfied with your purchase, we will accept a return or exchange within 14 days of the delivery receipt date on non-personalized items only.
If you need to return or exchange an item, please inquire via our online concierge to start a return. We'll notify you via e-mail of your refund once we've received and processed the returned item.
Only non-personalized items may be returned. The item must be in its original condition and packaging, with no signs of wear or damage.
The Bella Rosa Collection retains full discretion to assess the product for wear and reserves the right to refuse any return that does not fit within the return criteria.
Customers are responsible for all postage fees to send the item back to our facility. We'll pay the return shipping costs if the return is a result of our error (you received an incorrect or defective item, etc.).
ALL SALES ARE FINAL ON PERSONALIZED ITEMS
The Bella Rosa Collection offers customers a unique, bespoke experience. For this reason, all sales are final on all personalized purchases. 
If you have questions, please inquire via our online concierge.
In the event of a manufacturing defect, please email us at hello@thebellarosacollection.com within 24 hours of receiving your item. 
PLEASE NOTE:
The Bella Rosa Collection retains full discretion to assess the product for manufacturing defects and reserves the right to refuse any return that does not fit within the return criteria. If your return is denied, the merchandise will be sent back to the customer at the customer's expense and a refund will not be issued.