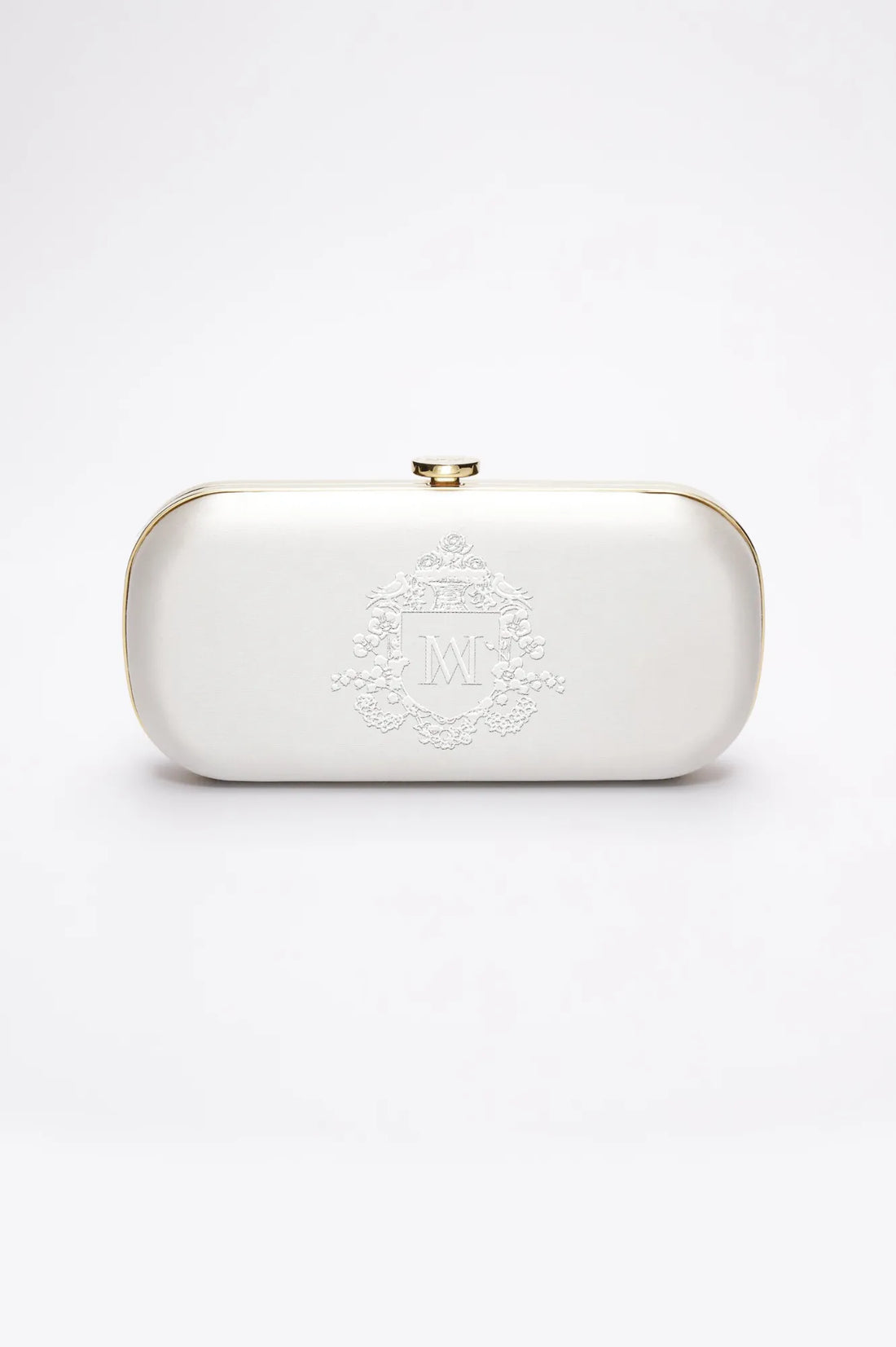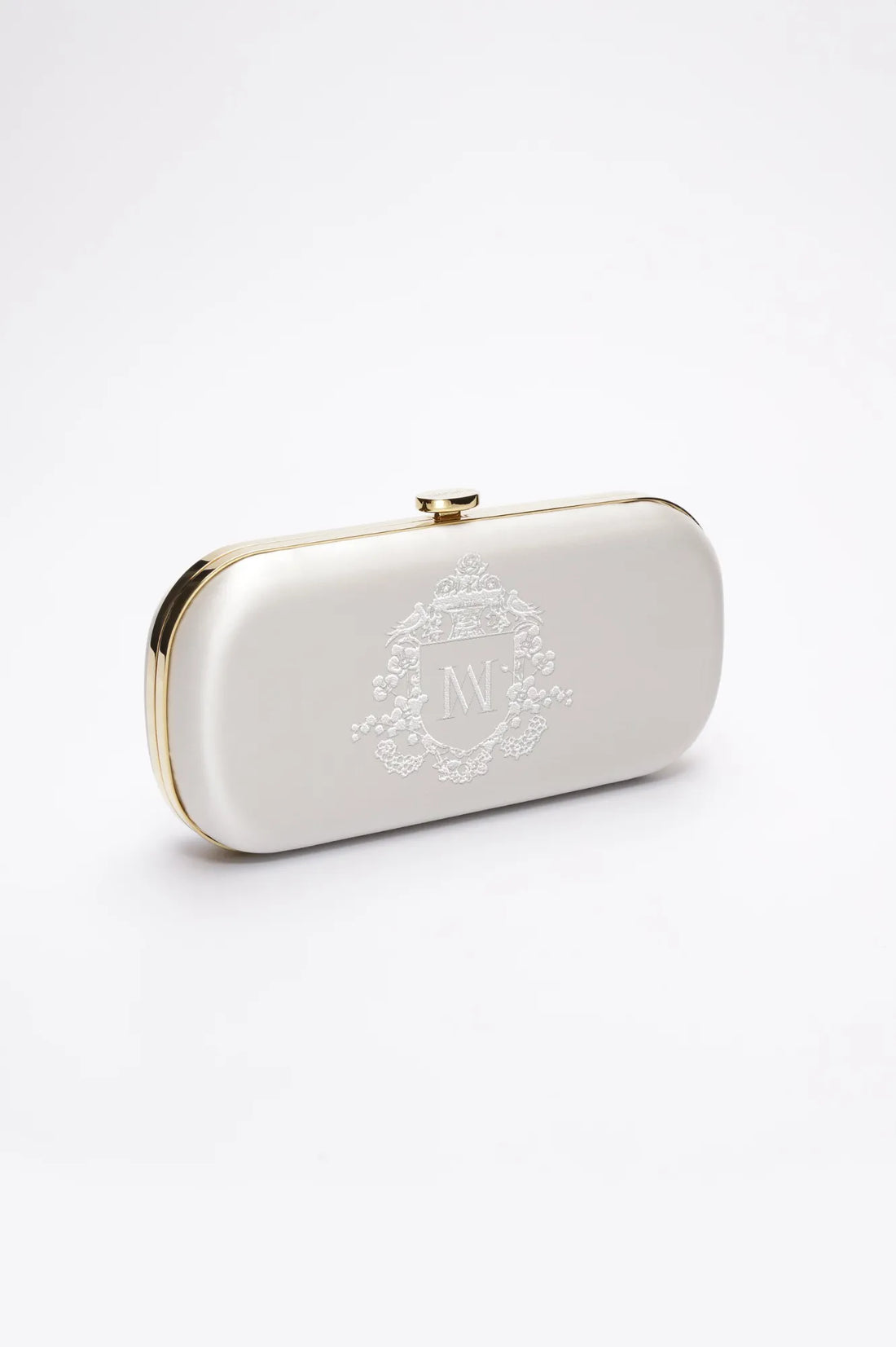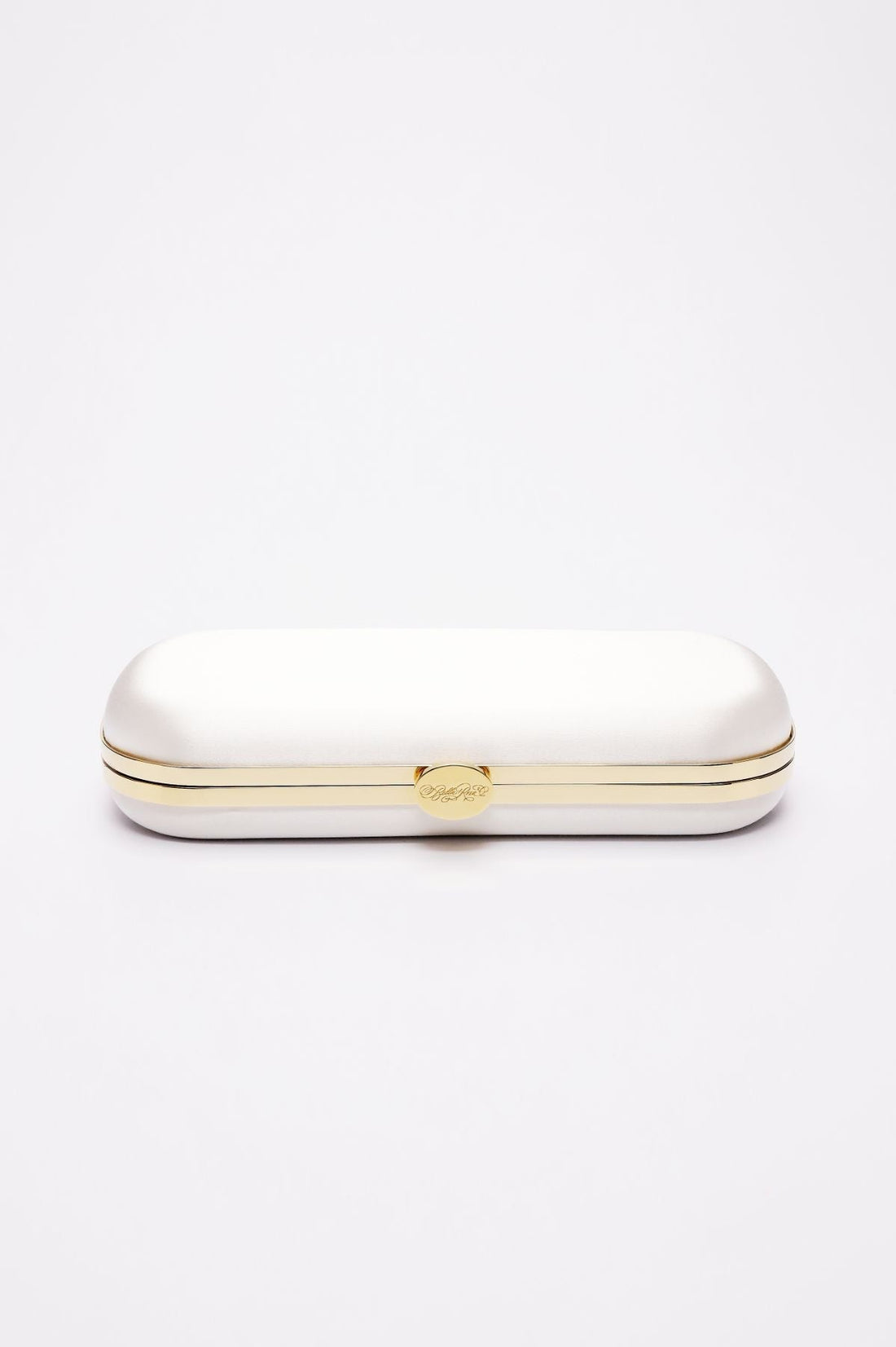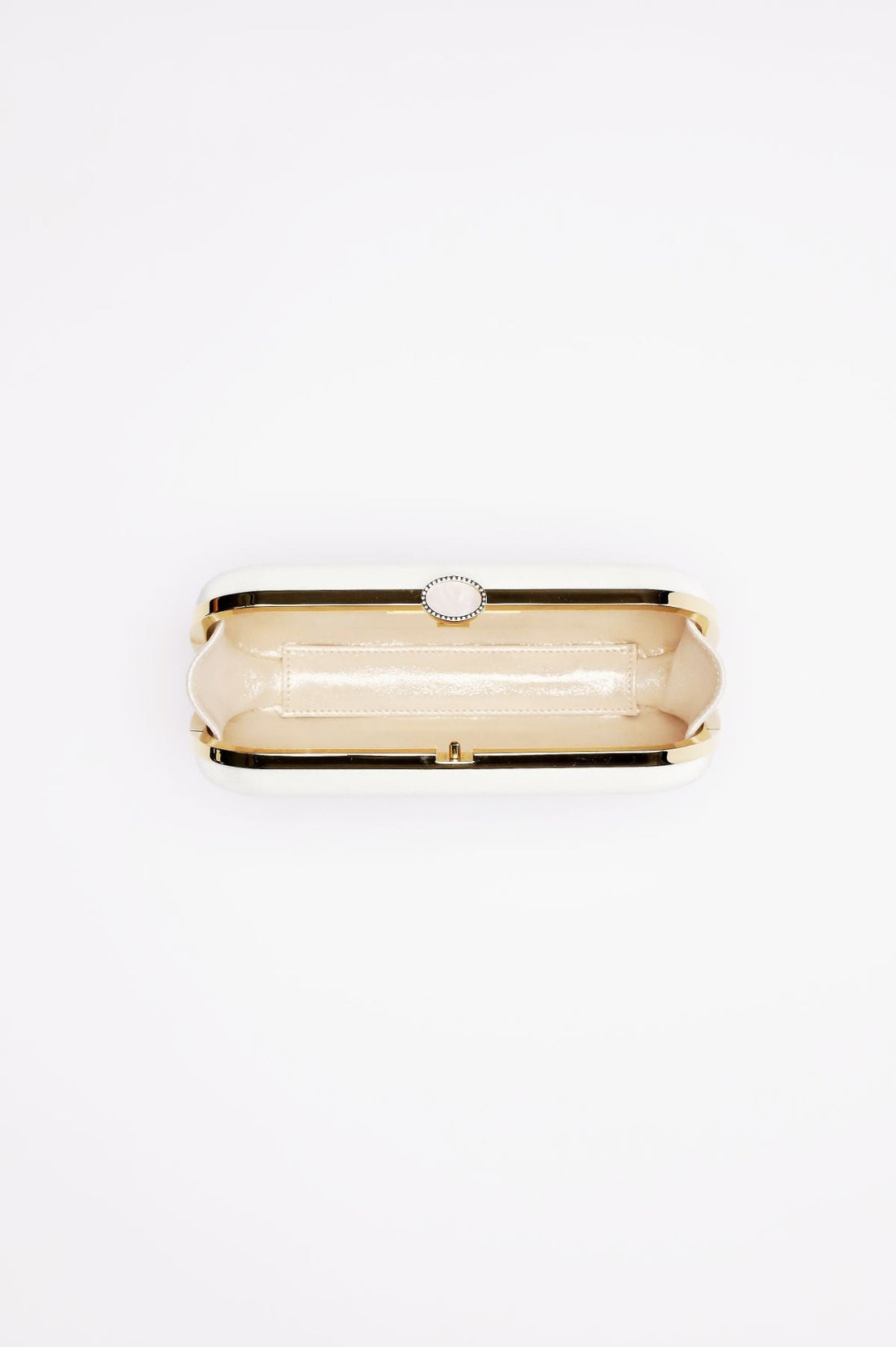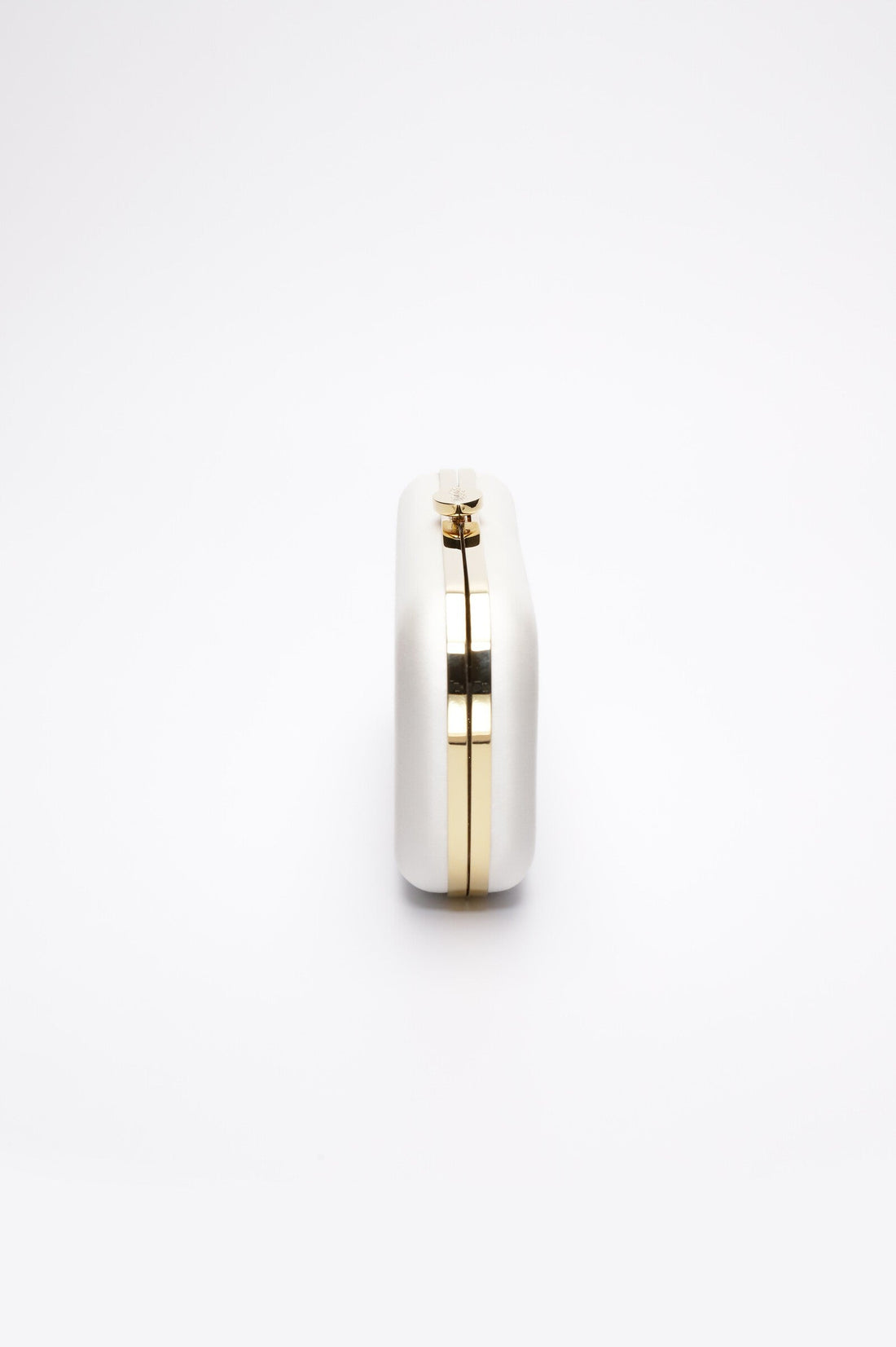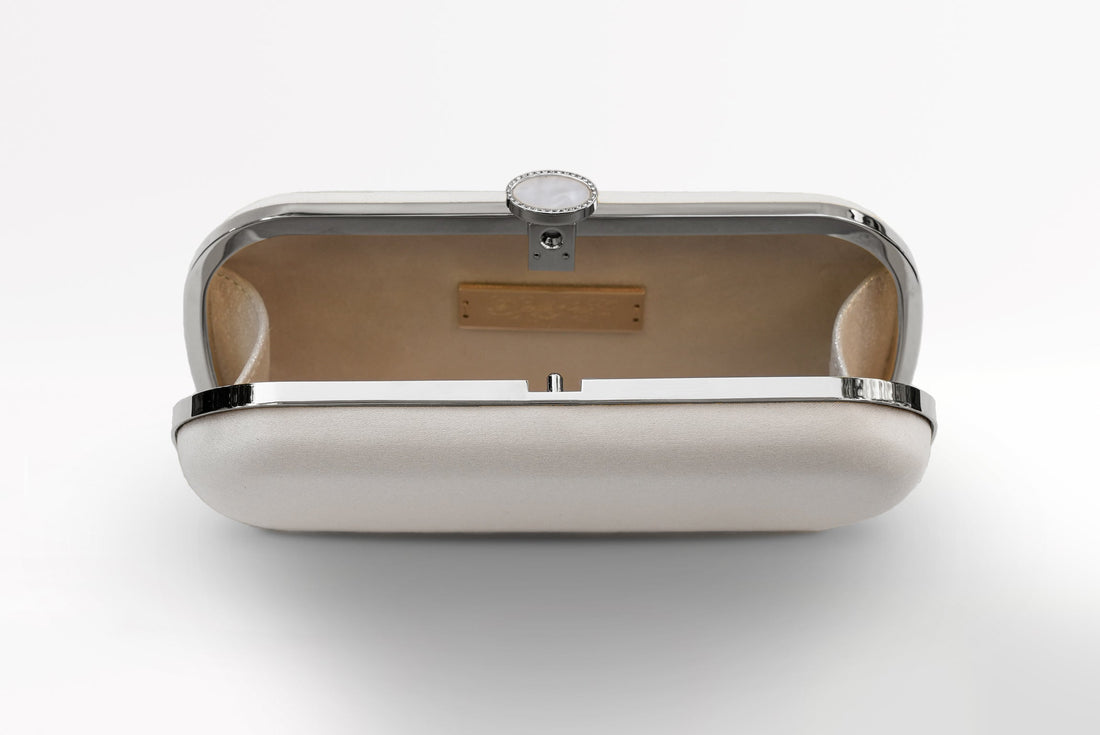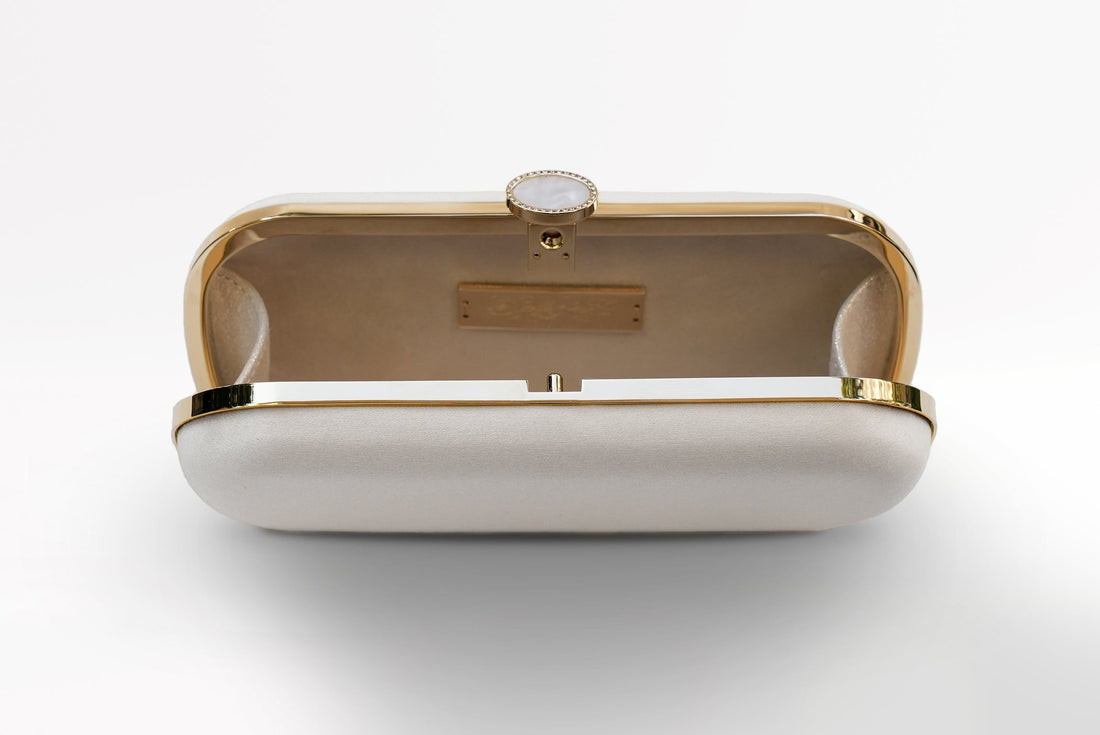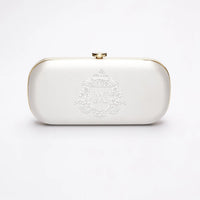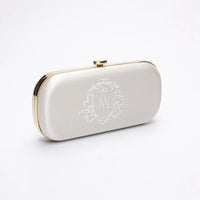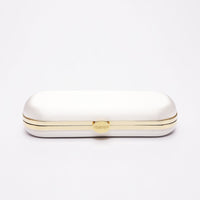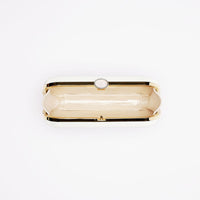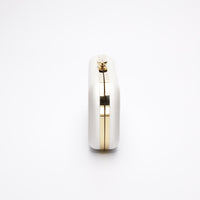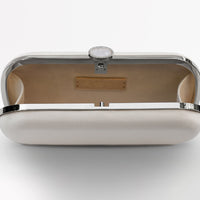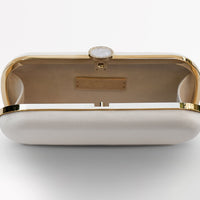 Ivory Satin Bella Clutch - Monogram Bridal Crest
Bella
Introducing the Bella Clutch: A Timeless Accessory with Personalized Elegance
Discover the exquisite Bella Clutch, a luxurious accessory that combines timeless style with personalized elegance. Crafted from high-quality ivory satin, this clutch features a tone-on-tone embroidered crest and monogram, making it the perfect addition to your evening ensemble or bridal look.
Key Selling Points:
High-Quality Construction: Made from premium ivory satin, the Bella Clutch is designed to last and become a cherished keepsake.
Unique Embroidered Crest: The tone-on-tone embroidery showcases a stunning crest, adding a touch of regal sophistication.
Customizable Monogram: Personalize your clutch with a monogram in the center of the crest for a truly bespoke accessory.
Embroidery Details:
Our skilled artisans will expertly embroider your chosen crest and monogram using your preferred thread color and font style. The crest will be placed in the center of the clutch, with the monogram elegantly positioned within the crest.
Post-Purchase Confirmation:
To ensure your complete satisfaction, a design specialist will confirm your monogram initial after purchase. This personalized approach guarantees accuracy and allows for any necessary adjustments.
Explore Made for Me Custom Handbag Design Services:
For an even more tailored experience, consider our Made for Me custom handbag design services. Collaborate with our design team to explore additional customization options, such as alternative crest designs or monogram styles.
Experience the Distinctive Style of the Bella Clutch:
Don't miss the opportunity to own this remarkable accessory. Purchase your Bella Clutch with Embroidered Crest and Monogram today, and indulge in the unparalleled sophistication of a truly personalized, heirloom-quality piece.
Sentiment plaques are laser engraved into a silver or gold plate. The plaque finish will match the hardware finish chosen on the bag.
Personalized engravings may include up to 100 characters. Type your message in the text field box.
Engraving style and text will be confirmed with each customer during order processing.
The Bella Rosa Collection is committed to responsible manufacturing and a reduction of overproduction.
As such, all handbags and purses in the Bella Rosa Collection are 'made-to-order.'
Once an order is placed, your couture purse will be handmade by the finest craftsmen and artists in Florence, Italy.
Your bag will be delivered within 3-6 weeks, depending on complexity of the design.
Please note the product description for special notes regarding delivery dates.
Made-to-order clutches are handcrafted in Italy. Please allow 3-6 weeks from the order date for your made-to-order clutch to arrive from Italy. 
Domestic orders will be shipped with tracking numbers and delivery confirmation.

International shipments, including shipments to Canada, may be subject to local government taxes and fees such as duties and import. Any duty and import fees are the responsibility of the purchaser and will be paid upon pickup from your local postal office.
Complimentary expedited, 2-day shipping is included on all orders. Please note, signature is required upon delivery.
Made-to-order clutches require 3-6 weeks of processing to handcraft your bag in Italy by our finest craftsmen and artisans. The shipping method chosen controls how quickly the bag is delivered to your destination after the 3-6 weeks of processing in Italy.
ALL SALES ARE FINAL.
The Bella Rosa Collection offers customers a unique, bespoke experience to customize their own couture bag. For this reason, all sales are final on all purchases. 
If you have questions about your bespoke clutch or handbag, please inquire via our online concierge. Exact measurements and product details are provided on each product listing. Please review the bag measurements and details before purchase. 
In the event of a manufacturing defect, please email us at hello@thebellarosacollection.com within 24 hours of receiving your bag. The Bella Rosa Collection retains full discretion to assess the product for manufacturing defects and reserves the right to refuse any return that does not fit within the return criteria. If your return is denied, the merchandise will be sent back to the customer at the customer's expense and a refund will not be issued. 
Want to match your outfit perfectly? Order a sample swatch, available in all color variations.
Sentiment Plaque Engravings
Make it personal
Create a timeless keepsake from your special event or wedding day with a personalized engraving to make your couture bag extra special.
"The quality, craftsmanship, customization and luxury service sets the brand apart."
A legacy of your love story
You deserve to commemorate your wedding with a Bridal Clutch capable of carrying your love story. A wedding-heirloom, passed on for generations.